Profile Assistant
The profile assistant supports you in creating new profiles in order to make basic settings for a copy process between two directories.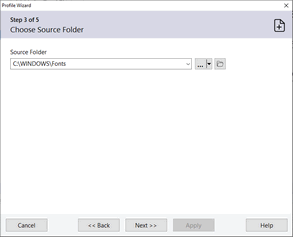 The following steps are performed using the assistant:
Specify the profile name
Specify the copy mode
Choose source folder
Exclude subfolders in source folder
Choose destination folder
Exclude subfolders in destination folder
Select options
After all these steps have been completed, the assistant can be exited by clicking on the
Apply
button. The
profile properties
are then displayed, enabling additional settings to be made.